Land Division

Sculpture
Solo Exhibition
Honolulu Museum of Art
O'ahu, Hawai'i
August 29, 2014 - January 4, 2015
Material: strawberry guava, steel
Dimensions: 9'-0" L x 4'-0" W x 8'-3" H
The title for this installation comes from the English translation of the Hawaiian word ahupua'a, or "land division usually extending from the uplands to the sea." More than a land division, the ahupua'a is part of an ordered sequence that organizes a watershed—and the resources that flow through it—into continuous, accessible, and productive units of wealth and information. Today's mainstream approach to land division fragments watersheds into urban, agriculture, and conservation land-use districts. This separates where people live and grow food, and fails to adequately protect the land around streams as the vital connection between mountain and ocean. While 40 percent of Oʻahu is zoned for conservation, these districts often exclude the land around streams, which are channelized and developed as private property. Meanwhile, forests that are "conserved" are often overtaken by invasive species such as strawberry guava (Psidium cattleianum, introduced to Hawai'i in 1825). Together, this decreases the ability for the watershed to attract, filter, and retain freshwater.

Part diagram of the watershed, monument to the moon, time machine, and heretical icon, Land Division is intended to refocus our attention on the term ahupuaʻa not merely as a land division, but as an innovative technology that can address the ecological, political, and social issues of contemporary society moving forward into the future.
---
PROJECT ANNOTATIONS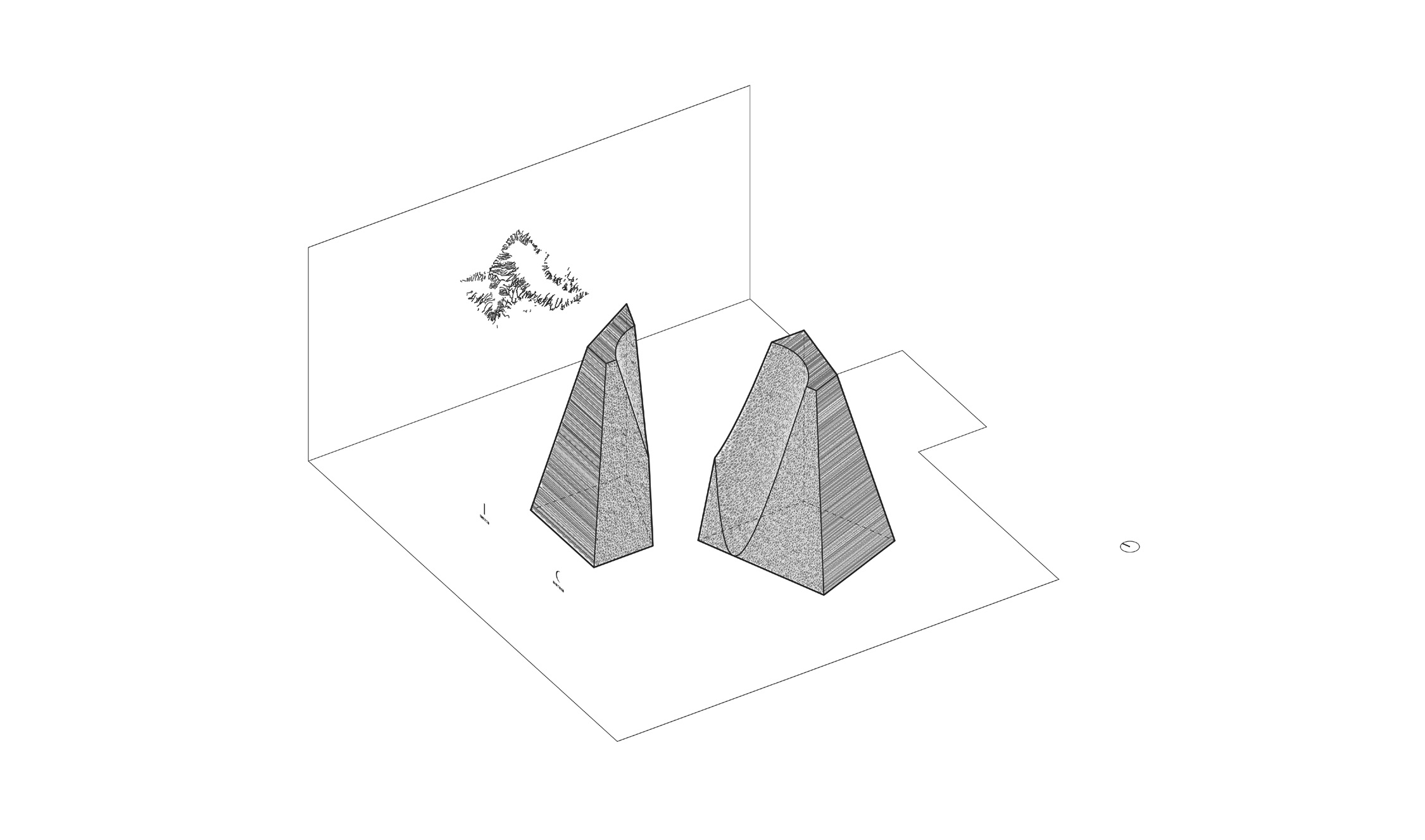 This sculpture explores concepts of material, direction, and alignment in a place and time when too many land divisions are happening all at once. Thousands of pounds of invasive strawberry guava trees are harvested from an artifical earthen burm built by the United States Army Corps of Engineers as a flood control project necessary to suburbanize Kane'ohe around Kaneohe Marine Corps Base. The woozy swath of invasive tree stump is stacked onto its side to fit within a formal wireframe. A false altar constructed into the shape of a celestial cone is boolean sliced and differenced with reference to nothing but its own geometry rotating in dark space. Rotating land and time until the clock strikes the sculpture spinning like a machine to hault at a position that also splits itself along two georeferenced lines that suddenly locate the gallery space as the intersection of two events that divided land in Hawai'i where the project sits. The first event, the most popular, and the second more recent but obscured. Two grey scandanavian-like icons are placed within the gallery to mark the esoteric circumstance of the object of the sculpture placed perpendicular to the position of the moon facing sunset on the day of the 1848 Māhele to signify the division of land by privatization on the date 03/07/1848. A second date 07/11/1961 on the wall marks the alignment where the sculpture turns diagonally along the position where the split angle of the sculpture forms an alignment along the direction of the Hawaii State Capitol Building in reference to legislation that divided the Hawaiian Islands into single use land use districts, the first of its kind based on American euclidian zoning applied statewide as well as within a novel tropical volcanic environment.
---
PROJECT TEAM
AJ Feducia; Anthony Sands; Andrea Charuk Kevon Schiessel; Chase Javier; Ihilani Phillips; Blythe Nguyen; Krystal Phan; Jonathan Swanz; Ikaika Ramones; Caleb Generoso; Danielle Ulmann; Lauren Livesay; Seiji Miyasaki; Skyelar Brown; Meagan Suzuki; Joseph Nam.
Advisors: Trisha Lagaso Goldberg; Leland Miyano; John Koga; Lawrence Seaward.
Sources of Wood: Leland Miyano; Rick Barboza; Byron Yeager; Timothy Connelly.
Support: Rick Barboza; Alex Connelly; Trisha Lagaso Goldberg; David Goldberg; Blaine Tolentino; Leah Caldeira; Drew Broderick; Kaipo Matsumoto; Travis Flazer; Marika Emi; Karmran Samimi; William Branlund; Adele Balderson; Ara Feducia; Doug Tolentino; Hadley Nunes; Iggy So; Jeff Gress; Lehua Ka'uhane; Vincent Ricafort; Matt Ortiz; Roxy Ortiz; Larry Maruya; Erick Walden; Fritz Oleshansky; Aaron Padilla; Jared Stone; Lesa Griffith; Stephan Joist.
Organizational Support: Honolulu Museum of Art; Good Grain, Harvard University Graduate School of Design, Ho'omaluhia Botanical Gardens, Hui Ku Maoli Ola, Lana Lane Studios.
---